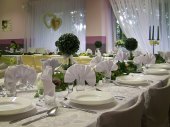 We would like to offer you a charming conference room to organize a company training session, a wedding reception, a First Communion reception, a New Year's Eve ball or a banquet. The room can sit up to 200 persons.
There is a green recreational ground near our facility.

We ensure full catering, including a menu discussed beforehand with the client.

We provide professional decoration of the room, help to choose a live music band and organize other wedding attractions.
In our immediate neighbourhood there is a hotel with a swimming pool, a spa with a large parking lot. The hotel may easily accommodate the newlyweds with all the invited guests.
The modern playground for children located within our grounds is the most frequently chosen place of spending time by the youngest guests.

You may contact us (see: Contact Section) in order to verify whether our facility is available for the dates you suggest.

You are kindly invited!

Sample offer*:
Wedding reception

150 PLN per person

Reception (first communions, christenings, birthdays)

90 PLN per person
(access to playground with teacher's supervision)

Banquet

100 PLN per person

A solemn dinner

90 PLN per person
(access to playground with teacher's supervision)

* prices are subject to change depending on individual arrangements concerning the menu and the scope of service


Are you interested in organizing a wedding reception for up to 150 guests or a conference up to 200 participants? Please check our offer here.