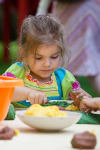 OUR KINDERGARTEN - YOUR CHILD'S OTHER HOME

During the building of our kindergarten we did everything to offer our children the maximum safety. The building itself complies with all the requirements of Polish and European standards, including safety requirements, fire protection regulations, OHS and school hygiene. It is equipped with lighting protection, fire protection and fitted with clearly marked escape routes. The staircase of enhanced fire resistance is closed with fire doors and appropriately designed, glass facade. In the building there is emergency and escape lighting and the nearest fire unit is located within two kilometres from the building.

The whole kindergarten is new and all its fittings are new and attested. Toys are adjusted to the ages of children and are regularly checked and, if found faulty, removed on the spot. All materials that constitute the equipment of the rooms (such as carpets, curtains) are made of fire-proof fabrics. Also the playground itself is subject to annual inspection and maintenance. The person in charge of maintaining the building and keeping order within the fenced and monitored playground is the caretaker.

In addition, the steps in the staircase are lit and taps in the bathrooms are fitted with locks protecting their users against burns. The group teachers are systematically trained in first aid and hold current medical certifications of no counterindications to working with children and certificates of clean criminal record.

The kindergarten has the procedure for collecting children from kindergarten implemented, as well as Kindergarten Safety Rules and Rules for Exiting or Leaving the kindergarten.