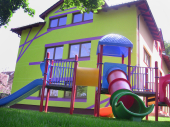 The kindergarten is located in a beautiful, three storey building (see: Photo Gallery) surrounded with the playground and greenery. The newly built facility that was accomplished in 2010 was designed specifically to meet kindergarten needs, which gave us the opportunity to implement the ergonomic solutions with the small hands and legs in mind (such as the step height, easy access to toilets/bathrooms). Constructing the new kindergarten from scratch enabled us to see to each and every detail ensuring the safety of our guards.
There are four large (50-60m2), light, and comfortably equipped rooms in the building. Each classroom is accompanied with bathrooms/toilets for children with a shower designed in such a way so that the child's supervision is possible in situations which require it. The two rooms on the ground floor are divided by the foldable acoustic wall, which after folding, creates a large area (c. 120m2) to organize special events of all kinds such as carnival balls or birthdays. Additionally the whole building is equipped in new multimedia equipment, large windows, mechanical ventilation, hygienic heaters, furniture and toys.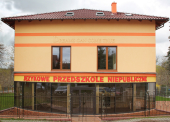 Appropriately chosen colours, space, a lot of daylight and modern lighting, proper temperature and constant air exchange due to mechanical ventilation, filtering out microbes, ensures the very efficient functioning of children in comfortable conditions.