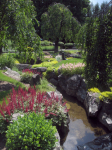 KINDERGARTEN OF 21ST CENTURY
Our kindergarten is situated in the heart of Zielona Góra - Drzonków, the location of the former primary school, with a stream running through its yard. As a result of this convenient location (7 kilometres, 15 minutes to the very centre of Zielona Góra: check the route on the map of Zielona Góra - Drzonków to the centre of Zielona Góra), it is easy to reach the kindergarten and you are saved a lot of time-wasting in traffic jams. There is a conveniently situated bus stop at the main road bordering the kindergarten.
The fact that The Voivodeship Centre for Sports and Recreation is in the immediate vicinity enables the children to make use of its assets (among others: ponds with ducks, horses, ponies, pools, sports halls and courts/pitches and other places enabling walks and active relaxation of your children). There are nearby forests as well which help us accomplish our curricular principles related to nature and - which is perhaps the most important thing - provide us with air which is clean and healthy. Children here can feel as if they were on holiday!