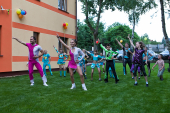 Every week in our kindergarten there are dancing activities for all the children: Zumba, hip-hop with English and classical dancing.
Both the "break dancing" and the more classical dance to the rhythm of music from all over the world are conducted by our trusted and talented dance instructors, motivating children to experience the passion for music and dance with all their senses :)

ZUMBA JAMMER, professional dancing instructress, MASTERCLASS fitness instructress, educator, socio-therapist, organiser of cultural activities and health propagator, dancer and choreographer.

Holds the international S class in Latin American dancing, professional dancing instructor, educator, licensed Zumba instructor.