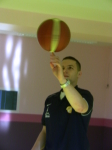 In the curriculum implemented in our facility there are regular, monthly visits of Interesting guests within the two independent topical series: "Career Day" and "Around the World Day".

CAREER DAY ("Dzień Kariery") is a cycle of meetings with people performing interesting jobs and directed at children (e.g. a vet, a basketball player, a fire-fighter, a police officer, a planner, an architect, an interior designer, etc.).

These are persons specifically chosen by us, often well-known, who can tell the children about their job in an interesting and comprehensible way. During such meetings children actively participate in experiments, tasks and contests prepared by such persons so that they can get into a given profession better.

It is our tradition to prepare questions with the children that they later on ask their guest.